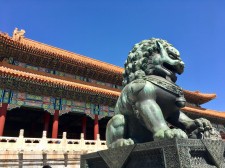 NANJING, China, April 3, 2018 (Newswire.com) - On March 28, 2018, Payson E. Johnston, CEO of the Silicon Valley (USA) blockchain-technology pioneer Crowdz, and Mr. Xiao Ming, Head of Crowdz China Business, and Ms. Song Yuan, Partner, visited Jiangsu Huarui Investment Management Co., Ltd (HRVC). During the meeting, HRVC signed a contract with Crowdz agreeing to invest in Crowdz China, a joint venture between Crowdz and a domestic Chinese technology company.
At the meeting between Crowdz and Jiangsu Huarui Investment Management Co., the two parties conducted further consultations on the specific content of their strategic cooperation and reached consensus on the cooperation method, business philosophy, and business-development level.
The two parties further reviewed the application of blockchain technology in the area of supply-chain finance. Among the matters discussed, Mr. Wang Mangen, Chairman of Jiangsu Huarui, analyzed the main business methods of the existing commercial-paper business in the Chinese market, and pointed out that it differed significantly from the comparable Western financial markets. Crowdz CEO Payson Johnston expressed his agreement with Mr. Wang, and described how the Crowdz solution addressed the challenges of invoice financing, liquidity, and market value for small and midsize enterprises (SMEs).
About Crowdz
Founded in Silicon Valley, California, USA, in 2014, Crowdz is the first company in the world to build a B2B ecommerce transaction network based on blockchain and artificial intelligence, and — through that network — Crowdz provides "supply chain as a service." Crowdz uses blockchain and IoT technologies to create an enterprise-level credit and value delivery system that helps small- and medium-sized enterprises to access supply-chain financing services in a timely manner, thereby enhancing their competitiveness in an increasingly complex and challenging global supply chain system. The B2B ecommerce portal established by Crowdz has greatly eased the information asymmetry, low-value transmission efficiency, and supply-chain conflicts among enterprises, and their plans have been or are being implemented in many industries.
On February 28, 2018, Techstars, the world's top startup accelerator and venture capital company, announced that it has selected Crowdz to enter their London-based accelerator, where Crowdz will work with Barclays Bank, headquartered in London, UK, to develop a blockchain-based supply-chain financing Fintech product. Crowdz's executive team has many years of combined experience in B2B procurement strategy planning, global supply-chain management, blockchain technology, e-tailing, and ecommerce. In 2018, Crowdz first brought its leading supply chain management experience and blockchain application to China, and will work with numerous companies in this fast-growing country.
Payson Johnston
Phone: 1-888-995-1600
Email: PR@crowdz.io
Source: Crowdz
Share: