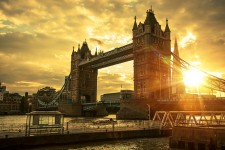 Blockchain company among the only 2% of all applicants so honored
LONDON, March 6, 2018 (Newswire.com) - ​Barclays London Accelerator powered by Techstars—part of the world's leading global technology-acceleration network—announced last week that it had selected Crowdz—The Blockchain-Commerce Company™ as a participant in 2018 FinTech (financial technology) Accelerator Program.
Crowdz—a Top 20 company on Crunchbase's global index of blockchain-technology startups—was one of only 10 startups from a field of more than 500 applicants to be invited to participate in the world's most exclusive FinTech-acceleration program.
We're very pleased to be working with Crowdz. Not only does Crowdz offer a solid finance & technology solution, but Crowdz's vision for the intertwined future of blockchain and business commerce is one of the most innovative and exciting I've seen.

Chris Adelsbach, Managing Director of the Barclays/Techstars FinTech Accelerator in London
"We are deeply honored to be chosen for such an exclusive and high-powered accelerator," said Payson E. Johnston, CEO of Crowdz, upon receiving the official invitation. "The ability to interact with and learn from scores of truly distinguished mentors from a vast array of finance and technology disciplines will do more than anything to help Crowdz prepare for the public launch of our blockchain-based business-commerce application later this spring.
Smart Transaction Networks
Blockchain—one of the most acclaimed emerging digital technologies of the past few years—is a distributed-computing network that records and stores financial and other critical data in an inherently secure, tamper-proof format. So profound are blockchain's potential benefits that PC Magazine has labeled it "the invisible technology that's changing the world."
Jeremy Wilson, Vice Chairman of Corporate Banking for Barclays, has sounded a similar theme, predicting that blockchain "will change not just finance, but the lives of almost everyone… [I]t looks as if it has the makings of a new operating system for the planet."
Blockchain has already been deployed in a wide number of uses in many industries, primarily for payments record-keeping, trade finance, data security, validation of the authenticity & provenance of goods, and logistics tracking. But Crowdz is the first company to use the blockchain as the foundation of comprehensive business-to-business transaction networks, which Crowdz terms "Smart Transaction Networks™."
"The overwhelming majority of business transactions today flow through slow and costly transaction gateways like EDI [electronic data interchange], which is a technology that first emerged in the 1950s, long before the public Internet even existed," explained Johnston, who served for 20 years as worldwide supply-chain senior manager for the global networking giant Cisco.
"Such antiquated systems," he said, "can impose delays of hours, weeks, or even months on completing business transactions, especially within international supply chains. As a result of these delays and other related factors, companies worldwide experience an annual cash drain of some US$4 trillion due to added costs and lost sales opportunities."
Business Commerce Accelerated
The primary goal of Crowdz's blockchain-based Smart Transaction Networks is to use the blockchain, along with the associated technologies of artificial intelligence, self-executing smart contracts, and IoT (Internet-of-Things) sensing, to accelerate business-commerce transactions within the $25 trillion global business-to-business commerce market from the current weeks or months to literally milliseconds.
"Taken together, technologies like these can accelerate business supply chains of all types to digital lightspeed," Kevin Hopkins, Crowdz's Chief Strategy Officer and a former U.S. White House economist emphasized. "Within a few years, fully automated, largely self-executing supply chains could become the new normal, squeezing cash-draining inefficiencies almost completely out of business transactions."
To this end, Crowdz will spend the next 13 weeks exploring possible areas of collaboration with Barclays. Areas of interest include blockchain-based transactions, EDI replacement, supply-chain finance, and blockchain-enabled ecommerce marketplaces.
"We're very pleased to be working with Crowdz," said Chris Adelsbach, Managing Director of the Barclays/Techstars FinTech Accelerator in London. "Not only does Crowdz offer a solid finance & technology solution, but Crowdz's vision for the intertwined future of blockchain and business commerce is one of the most innovative and exciting I've seen."
About Crowdz
Silicon Valley, California, based Crowdz — the Blockchain-Commerce Company is building the world's first blockchain-based business-commerce transaction networks and associated ecommerce marketplaces. Founded in 2014, Crowdz offers both plug-in & custom business-transaction solutions that eliminate the need for costly & antiquated transaction gateways like EDI, resulting in dramatic increases in operational efficiency and transaction-completion speed. Crowdz is headed by its CEO Payson E. Johnston, who served for 20 years as global supply-chain director for Cisco, and its executive team has a combined 90 years of experience in B2B sourcing, supply-chain operations, business finance, retail, ecommerce, & blockchain. Crowdz's technologies are currently covered by seven pending patents, and a prototype version of Crowdz's sourcing system is currently being used by 240 seller companies offering nearly 1.4 million products. For more details, please visit: http://www.crowdz.io.
About Barclays
Barclays, Great Britain's second-largest bank, was founded in London in 1690 and now boasts more than 325 years of history & expertise in banking. With operations in more than 40 countries across the globe, Barclays employs approximately 120,000 people and has £1.213 trillion in assets under management. A 2011 study ranked Barclays as the most powerful corporation in the world in terms of its contribution to global financial stability. At the heart of Barclays' strategy is building on its strength as a transatlantic consumer, corporate, and investment bank anchored in its two home markets of the United Kingdom and the United States. For more information about Barclays, please visit: https://www.home.barclays.
About Techstars
Techstars is the worldwide network that helps entrepreneurs succeed. Techstars' founders connect with other entrepreneurs, experts, mentors, alumni, investors, community leaders, and corporations to build their growing roster of currently participating & alumni companies. The Techstars network operates nearly 40 accelerator programs throughout the world, and provides a wide variety of mission-critical services to innovative technology startups through its four divisions: Techstars Startup Programs, Techstars Mentorship-Driven Accelerator Programs, Techstars Corporate Innovation Partnerships, and the Techstars Venture Capital Fund. Techstars-supported companies have raised more than US $4.6 billion in funding. According to the Government of the UK, "Techstars classes itself as the number 1 startup accelerator in the world. They are very selective—whilst thousands of companies apply each year, they only invest money and time in about 10 companies per program location. Their selection rates are lower than the Ivy League, so you have to be among the best to earn investment from Techstars." For more details on Techstars, please see: www.Techstars.com.
About Barclays London Accelerator, Powered by Techstars
The Barclays London Accelerator, powered by Techstars, is an intensive, 13-week program designed to accelerate technology startups operating in the FinTech (financial technology), artificial intelligence, & blockchain space. The London program is rigorous and highly selective, and invites only 10 companies out of the more than 500 worldwide that apply each year. The accelerator program, which kicked off on Feb. 26, provides introductions & guidance from key decision makers at Barclays and Techstars, mentoring from leading entrepreneurs and FinTech industry experts, access to top-tier technical expertise in a variety of relevant domains, seed investment, and the opportunity to pitch to a growing community of influential technology, FinTech, & blockchain investors. The program caps off with Investor Day presentations on May 23. For more details on Barclays London Accelerator, Powered by Techstars, please see: http://barclaysaccelerator.com/#/london
Media Contact:
Clay Dedeaux
Phone: 1-888-995-1600
Email: pr@crowdz.io
Source: Crowdz
Share: